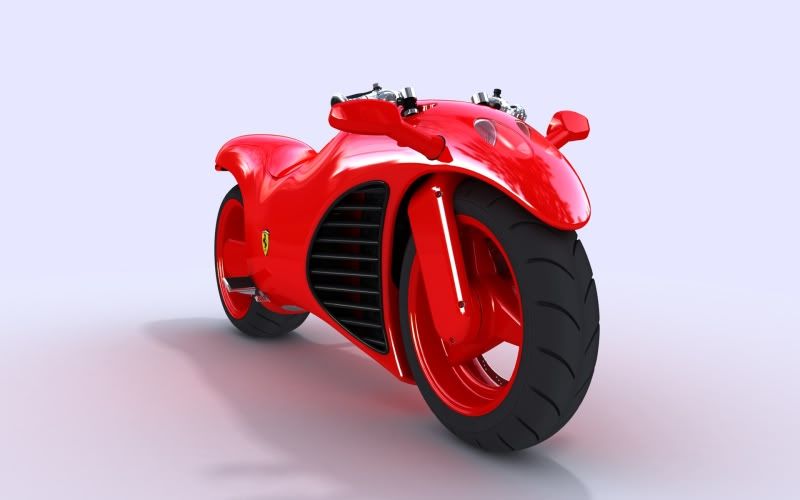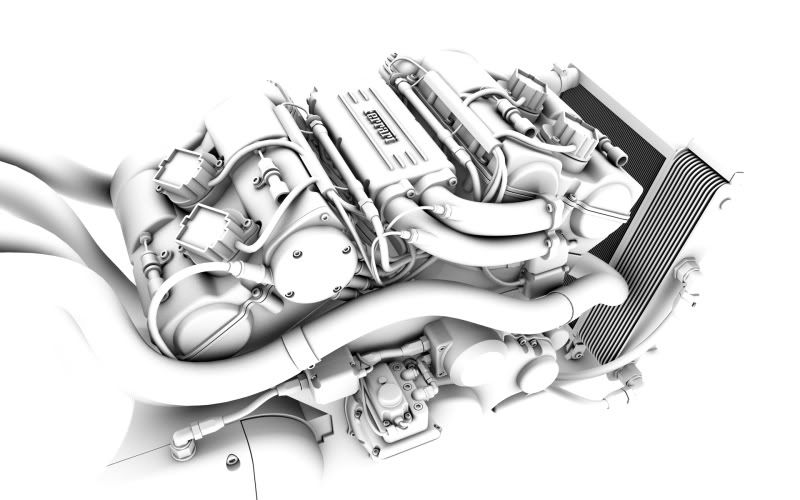 Πηγή: mensonly.gr
Ένα από τα πιο ενδιαφέροντα project, θα ήταν να δούμε μια μοτοσικλέτα από τη Ferrari ή τη Lamborghini. Η ιστορία έχει καταγράψει μερικές προσπάθειες, κυρίως ιδιωτών ή εταιρειών που δραστηριοποιούνται στον χώρο των δύο τροχών, για την κατασκευή πρωτότυπων μοντέλων της Ferrari σε δύο τροχούς.
Όλα ξεκίνησαν τη δεκαετία του '50, όταν ο γιος του Enzo Ferrari, Alfredo Dino υποσχέθηκε την εξέλιξη και παραγωγή ειδικών μοτοσικλετών με τα σήματα της εταιρείας, που όμως δεν κατασκευάστηκαν ποτέ. Στα seventies, η εταιρεία Kay Engineering δημιούργησε μία και μοναδική σπορ μοτοσικλέτα προς τιμήν του Enzo Ferrari. Στη μοτοσικλέτα προσαρμόστηκε ένας τετρακύλινδρος αερόψυκτος κινητήρας 900 κ.εκ. με δύο εκκεντροφόρους επικεφαλής. Σύμφωνα με την εταιρεία, η συγκεκριμένη μοτοσικλέτα έχει συλλεκτική αξία και βγήκε προς πώληση πριν από μερικά χρόνια στην εξωφρενική τιμή των 500.000 δολ.
Στη δεκαετία του '80 συνεχίστηκαν οι προσπαθείες για τη δίτροχη μοτό, με τον τότε γνωστό σχεδιαστή δικύκλων Arlen Ness να κατασκευάζει μία και μοναδική μοτοσικλέτα τύπου chopper, έχοντας κατά νου το σχεδιαστικό μοτίβο της Ferrari Testarossa. Όμως το τελευταίο δημιούργημα μοτοσικλέτας Ferrari είναι το κάτι άλλο. Ο παγκοσμίας άγνωστος Ισραηλινός σχεδιαστής
Amir Glinik
δημιούργησε το 2008 στην οθόνη του υπολογιστή του μια φουτουριστική μοτοσικλέτα με κινητήρα V4 που τη βάφτισε Ferrari.
Πήρε τον V12 κινητήρα της Ferrari Enzo, αφαίρεσε τους 8 κυλίνδρους και απέμεινε ένας V4 με χωρητικότητα 2.000 κ.εκ. με σκοπό να κινήσει αυτή την πρωτότυπη μοτοσικλέτα. Ο μεγάλος όγκος του όμως είχε σαν αποτέλεσμα να μακρύνει αισθητά και το μεταξόνιο.
To όλο project προβλήθηκε εκτενώς στο Διαδίκτυο και σε πολλά blogs.
Η επίσημη Ferrari ενοχλήθηκε σφόδρα και απαίτησε από τον φιλόδοξο σχεδιαστή να αποσύρει τις φωτογραφίες, καθώς η μοτοσικλέτα του δεν ήταν αλλά και δεν θα μπορούσε να είναι Ferrari
. Γενικώς, όλες αυτές οι προσπάθειες δημιουργίας μιας μοτοσικλέτας που να φέρει τα σήματα του Maranello ήταν ανεξάρτητες και δεν είχαν τη συγκατάθεση της ιστορικής αυτοκινητοβιομηχανίας. Ωστόσο, ο εμπνευστής του σχεδίου έγινε παγκοσμίως γνωστός μέχρι η Ferrari να αναλάβει δράση. Κι αυτό θα του εξασφαλίσει την απαραίτητη δημοσιότητα στο επόμενο project με το οποίο θα καταπιαστεί. Βεβαίως δεν είναι η πρώτη φορά που κάποιος ή κάποιοι χρησιμοποίησαν το όνομα μιας εταιρείας αυτοκινήτου για να δημιουργήσουν μια μοτοσικλέτα. Η περίπτωση της Lamborghini Design 90 είναι μία από αυτές, μόνο που εδώ είχαμε και τη συγκατάθεση της ιταλικής αυτοκινητοβιομηχανίας. Η κίτρινη μοτοσικλέτα της Lamborghini ανατέθηκε στη γαλλική εταιρεία Boxer Bike πριν από περίπου 20 χρόνια. Η υπόθεση εργασίας ήταν να αποτυπωθεί το ύφος μιας Countach σε μοτοσικλέτα. Το αποτέλεσμα ήταν μια σχεδιαστική μπούρδα, τόσο άκομψη και άσχημη όσο το πρώτο Morbidelli 850 V8.
Η κίτρινη Lamborghini Design 90 εφοδιαζόταν με έναν 1000άρι τετρακύλινδρο εν σειρά κινητήρα (προερχόμενος από την Kawasaki) με 16 βαλβίδες και δύο εκκεντροφόροι επικεφαλής, συνολικής απόδοσης 125 ίππων. Η μοτοσικλέτα ζύγιζε 175 κιλά και μπορούσε να αναπτύξει τελική ταχύτητα 250 χλμ./ώρα. Η βασική ιδέα ήταν να παραχθούν 25 αντίτυπα, όμως πληροφορίες της εποχής έκαναν λόγο για κατασκευή μόλις 10 μονάδων.Σε κάθε περίπτωση, πάντως, θα ήταν πρόκληση να δούμε μια μοτοσικλέτα από την Porsche, την Bentley ή τη Ford, θα ήταν επίσης ενδιαφέρον να δούμε και το αντίστροφο. Ένα αυτοκίνητο από την Ducatti, τη Moto Guzzi ή τη Harley. Η ΚΤΜ το δοκίμασε και όλοι μιλούν γι' αυτό.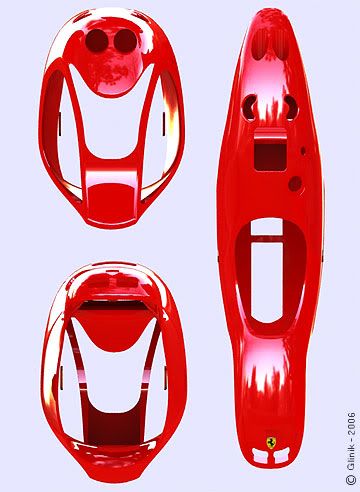 Διαβάστε τις σκέψεις του δημιουργού για αυτό το project
Glinik Ferrari
(Concept)
This project may not be officially endorsed by the manufacturer the project is representing. The project is a concept only and does not reflect on the manufacturer. Any copyrighted logos or design cues that might be infringed on by this project are totally without malus, and only used by the designer to show there respect for the manufacturer.
Ferrari Motorcycle
This story starts early 2005 from a question raised In my office: "Why there is no Ferrari motorcycle?". though I could answer this question and provide a few logical explanations it seems to make me wonder...
Early 2005 I start to search the internet and it didn't took long to discover some historic Ferrari family facts, some Motorcycles and a few private projects, The fact that Mr. Alfredo Ferrari was involved in motorcycling In the 50's was something significant to discover in the search after Ferrari history...some of the unique characteristics of Ferrari 1953 bike are the Handlebars and rear suspensions arrangements those attract my attention and with this in mind and while studying Ferrari components from past to present I could see a bike vision already...
Vintage and modern Ferrari projects Influence my design... it's a mix of what I find to be the best Ferrari lines with the latest technology I could think of in terms of engine, gear and driving management,
Preserving Ferrari lines and history, to create a normal dimensions bike and to use Ferrari existing technology, to take the ease of serve as a factor while thinking about low profile and CG. but in any case to produce a practical machine and not in any way a "star wars" future ride... those are few of the project guidelines...
When you think about the idea of Ferrari motorcycle You probably imagine a v12 hang between two wheels but this was not my attitude. The idea of "slicing" a V4 out of one of Ferrari engines was something I saw at very early stage of this project, and that's what I did
One major issue is the height of the intake and injection unit what I did here was to simulate a compact intake unit with sideway small diameter dual intake manifold you can see the servo motor on the side, yes you could guess it's a "Drive by Wire" motorcycle in few of its systems
This is a V4 engine based on the Ferrari Enzo Block shape the oil sump was moved forward as separated oil tank while the engine lower case reshaped to a mono block gearbox that support the swing arm radial movements, hydraulic engine unit supply pressure for smart shock damping system and clutch, the engine is both air - water cooled the lower fins was taken from traditional Ferrari engines and seamlessly blends with the bottom of fairing to form a major heat exchange surface at the bottom of the bike...
This maybe the most radical idea on this project, it may take a year to be fully developed, but basically it's a two arms radial mechanism that can be found even on executive scooters. here the swing arm movements controlled by a radial shock pre loaded by composite material omega spring. the radial hydraulic shock damper controlled by oil pressure from the main hydraulic motor. You can choose from two modes for ground clearance and a sensor will override any selection When needed. The rider can select from two shock damping styles for each clearance mode. The swing arm connected to gearbox sides and form housing for spring, damper and final drive arrangement which maybe a dual drive belt in order to eliminate any twist force...
Hydraulic Unit
Central hydraulic motor provide pressure to the oil distributor which is a controller driven smart solonoid valve that controls both forks piston, Swingarm and clutch...
Brakes
Outer disc arrangement with dual sculpted calipers. The front brakes Are either remote controlled from a virtual right hand lever or coupled with the foot control with the managing of a brake computer (see also aerodynamic braking). mounting a gyro system on a motorcycle can provide better info to an optional braking systems that operates form foot control only.
Forks
The forks structure (like rear swing arm) made from inner aluminum U chassis, surround by composite material cover that is part of the structure, The front suspension is based on a single heavy duty hydraulic piston controlled by hydraulic pressure regulate valve with track and road operation modes
The heart of the controlling system based on Ferrari engine Management computer. On top of it lays the human interface It's a controller integrated with an all weather touch screen. You can manage bike systems or monitor information and Diagnostic info. Few of the systems you can operate from screen are suspensions mode drive mode, anti theft device Radio / GPS but this is only the starter. Continues Information like RPM, speed and gear status will displayed in a digital or analogue display switchable style you can switch between Km/h Sm/h. monitor all liquids and temp's and even calculate the bike weight.
Rider can provided with up to 6 functions on each hand throttle handle is split in a way that half of it is rotating handles provide electronic signal output only. This means that you are pulsating 3 electric servo motors, the virtual levers resistant is adjustable...
Hand controls design was taken from the throttle quadrant of the F16 jet fighter as a way to allow many control buttons in ergonomically way... Buttons are mix of toggles push buttons and one finger dials This idea came as a solution to provide something similar to the control panel found on the Ferrari F1 steering wheel...
"Active intakes" are automatically controlled by two servo motors that change the fins "split angles" to accelerate / regulate air flow during slow speed driving. and shut them momentarily during high speed major braking in order to maximize drag...
Tube frame based on traditional Ferrari style frames constructed at the early stage of this project. Later changed to aluminum cage. but there is a trace of rhe traditional tube construction in the front section to support battery and oil tank. this special section support the active intakes structure and servo motors too.
This is the very first suggestion for a full fairing option the only other version is slightly more sharp at the rear if you don't like it just give me some more time this fairing is truly matching the inner structure, one of the highlights of this project is the fact that it was made from Inside out...
A unique personal helmet can be produce to complete the Bluetooth Radio / GPS idea And will be mold specially to suit the rider head as accepted in jetfighter squadrons, helmet shape and color scheme will match bike look and carry Ferrari logo...
Για όποιον θέλει να έρθει σε επαφή μαζί του...
είναι δημοσιευμένα τα προσωπικά του στοιχεία

email: amir@3d-files.co.il